Bio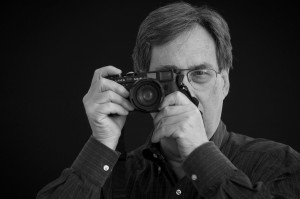 Paul Margolis first picked up a camera at the age of 9.  He is a documentary and fine art photographer, as well as a writer and lecturer. His subjects include people living on the margins of society, vanishing Americana, historic architecture, and the vibrancy of life on the streets.  While he has adapted to digital photography, he still works almost exclusively with mechanical cameras and black and white film, which he hand-processes and prints himself.  He prefers the classic look that medium gives, as well as its archival permanence as a historical record.  When asked why he still uses "old-fashioned" equipment and materials, and if he doesn't want to give a detailed explanation, he just says, "It makes me happier than digital."
Margolis' earlier projects included documenting the shad fishermen of the Hudson River, the small Jewish communities of Cuba and Ireland, and Jewish poverty in New York City. After September 11, 2001, he recorded the effects of the destruction of the World Trade Center on New York City. He also did the photography for a historical guidebook to the Lower East Side of Manhattan.
In recent years, Margolis has pursued a number of photo-documentary projects: photographing individuals who reenact the wars of the 20th century, traveling to Israel to record everyday life there, and photographing the political demonstrations in New York City that followed the 2016 election. In 2019 and 2020, his projects have included documenting the interactions of senior citizens and their pets and photographing commuters and crew on the Staten Island Ferry. With the arrival of the COVID-19 pandemic in New York City, he has been documenting the "new normal" of people going about their lives in masks, as well as other signs of how the virus outbreak has affected society. His work has been exhibited in the United States, France and Israel; he has been the subject of a feature TV interview; and he has had extensive press coverage in both American and Israeli publications.
Documentary and fine art photography have always been Paul's first loves; however, his background includes working as an editor, teacher, photojournalist and commercial photographer. Largely self-taught as a photographer, he also has an M.A. degree in Teaching from Fairleigh Dickinson University, and a B.A. in History from Bard College. His work is found in museums, historical archives and private collections. Paul lives in Manhattan and he recently retired from an agency of the City of New York in order to work full-time on his photo-documentary projects.
Exhibitions
Individual Exhibitions
2020 Seniors and Pets, James Lenox House, New York, NY
2019 Israel Impressions, Oklahoma Israel Exchange, Boathouse Gallery, Oklahoma City, OK
2019 Israel Impressions, Indianapolis Hebrew Congregation, Indianapolis, IN
2018 Israel Impressions, Congregation B'Nai Israel, Albuquerque, NM
2018 Israel Impressions, Littlewood Fine Arts Co-op and Community Gallery, Yuma, AZ
2018 Impressions d'Israel, Temple Maayane Or, Nice, FRANCE
2017 A War Without Blood and Gore, Beit HaOmanin/The Artist's House, Tel Aviv, ISRAEL
2017 Impressions d'Israel, Communaute Juive Liberale, Paris, FRANCE
2017 Theater of the Everyday, Symphony Space, Bar Thalia Gallery, New York, NY
2016 Israel Impressions, Jewish Federation of Ventura County, Ventura, CA
2016 Israel Impressions, Temple Emanu-El, San Francisco, CA
2016 Theater of the Everyday, Bard College Alumni Center, Annandale-on-Hudson, NY
2016 Israel Impressions, Hebrew Union College, Jerusalem, ISRAEL
2015 Israel Impressions, UCLA Dortort Center Gallery, Los Angeles, CA
2015 Theater of the Everyday, Cornelia Street Café Gallery, New York, NY
2015 A War Without Blood and Gore, Hadassah College Gallery, Jerusalem, ISRAEL
2014 Israel Impressions, JCC of Stamford, Stamford, CT
2014 Hidden Ellis Island, Living Room Gallery, St. Peter's Church, New York, NY
2011 Hidden Ellis Island, Steamship Lilac Gallery, New York, NY
2006 Hidden Ellis Island, JCC of Stamford, Stamford, CT
2006 Woven Together: The Califon Basket Factory, Califon Historical Society, Califon, NJ
2004 Hidden Ellis Island, Grace Institute Gallery, New York, NY
2002 The Jews of Cuba, DC37 Gallery, New York, NY
1997 The Jews of Cuba, B'nai B'rith Klutznick Museum, Washington, DC
1996 The Jews of Cuba, Pro-Jex Gallery, Austin, TX
1993 Jewish and Poor In New York, Jewish Theological Seminary, New York, NY
1988 Shad Fishing on the Hudson, Hudson River Maritime Center, Kingston, NY
1987 Shad Fishing on the Hudson, South Street Seaport Museum, New York, NY
1986 Shad Fishing on the Hudson, East Hampton Town Marine Museum, Amagansett, NY
Group Exhibitions
2020 Plague Days, Online In-Place COVID-19 Crisis Artist Residency
2019 Seductions, The Friday Gallery, Brooklyn, NY
2015 The Intention of Evil, Hebrew Union College Gallery, New York, NY
2014 Non-Member Photography Show, Salmagundi Club Gallery, New York, NY
2014 Faith & Form, The Anne Frank Center, New York, NY
2013 The Salon Show, West Side Arts Coalition, New York, NY
2013 New York, New York, West Side Arts Coalition, New York, NY
2013 People, West Side Arts Coalition, New York, NY
2013 Living Beings, West Side Arts Coalition, New York, NY
2012 Ten Years After, West Side Arts Coalition, New York, NY
2010 Five New York Photographers, Grace Institute Gallery, New York, NY
2010 The Tugboat Show, The Ear Inn, New York, NY
2009 Symphony in Black and White, St. Francis College, Brooklyn, NY
2008 Art of the Wall, Tompkins Square Library, New York, NY
2008 Salon Show, West Side Arts Coalition, New York, NY
2008 Women in the Course of Their Daily Lives, Grace Institute Gallery, New York, NY
2008 City Workers Show, Salmagundi Art Club, New York, NY
2008 Urban Landscapes, West Side Arts Coalition, New York, NY
2008 Ellis Island Memories, JCC of West Orange, West Orange, NJ
2008 Our Flag, Grace Institute Gallery, New York, NY
2006 Here Was New York, Brooklyn Arts Council, Brooklyn, NY
2002 I Love Manhattan, Manhattan Arts International, New York City
2002 Here Is New York, New York City
Collections
American Jewish Historical Society, New York, NY
Museum of the Jewish People, Tel Aviv, ISRAEL
Brooklyn Arts Council, Brooklyn, NY
Library of Congress, Washington, DC
New-York Historical Society, New York, NY
Book Illustration

The Lower East Side Remembered and Revisited, Author: Joyce Mendelsohn, Columbia University Press, 2009